Hydronics
What Is It And How Does It Work?
Hydronic heating supplied and fitted by banboy can provide you and your whole family with the most comfortable, quiet and cosy central heating system available. The installation of Hydronic heating does not involve the need to blow hot air and dust throughout your home as does Ducted heating systems and alike. Hydronic heating has been proven to provide a cleaner and safer environment free of droughts and noise, therefore creating a more natural and even heat distribution throughout your home.
Asthma and allergy sufferers will certainly benefit from a heating system that does not move large volumes of air and dust which can provoke an asthma attack at any time.
Hydronic heating equipment and systems supplied by banboy can be operated with a variety of different fuels. The hot water heating units commonly known as boilers can be manufactured to operate preferably on natural gas, L.P. Gas or alternatively heating oil, coal or wood. This gives you the flexibility to tailor a system to fit your requirements.
Water is heated by these units and circulated through pipe work connected to panels installed throughout your home or office. The heat is transferred from each of these panels (radiators or convectors) by natural convection or radiated heat. The panels are sized according to the areas to be heated.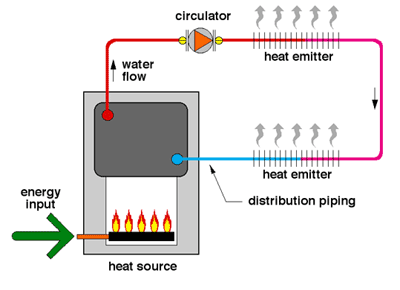 Floor or slab heating can also be installed via hydronically heated floor coils. Temperatures in each area or room throughout the home or office can be controlled individually if required or by a centrally located programmable room thermostat.
Hydronic heating in your home or office can be easily controlled and delivered where and when you require it. The operating cost savings when using a hydronic heating system will most certainly be welcome.

Home heating the way nature meant it to be.
Comfortable Quiet and Cosy